Some people are reporting that the speed keys / hotkeys are not working after installing LRSK on macOS. For one reason or another, macOS permissions are not set properly.
If LRSK is not working for you, it is most likely an issue with macOS permissions.
When you first run LRSK, you should see the following pop-up asking for these permissions. These permissions are required for LRSK keyboard shortcuts to work.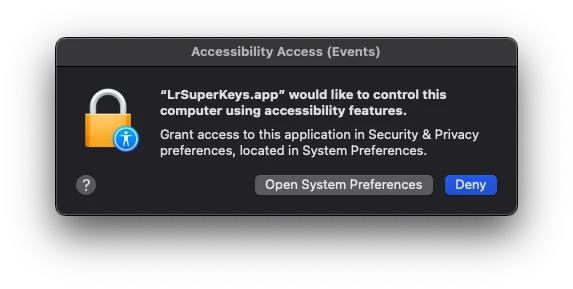 You must click on the "Open System Preferences" button to open up the Security & Privacy settings as shown below.
If there isn't a checkmark next to LrSuperKeys, you must place one.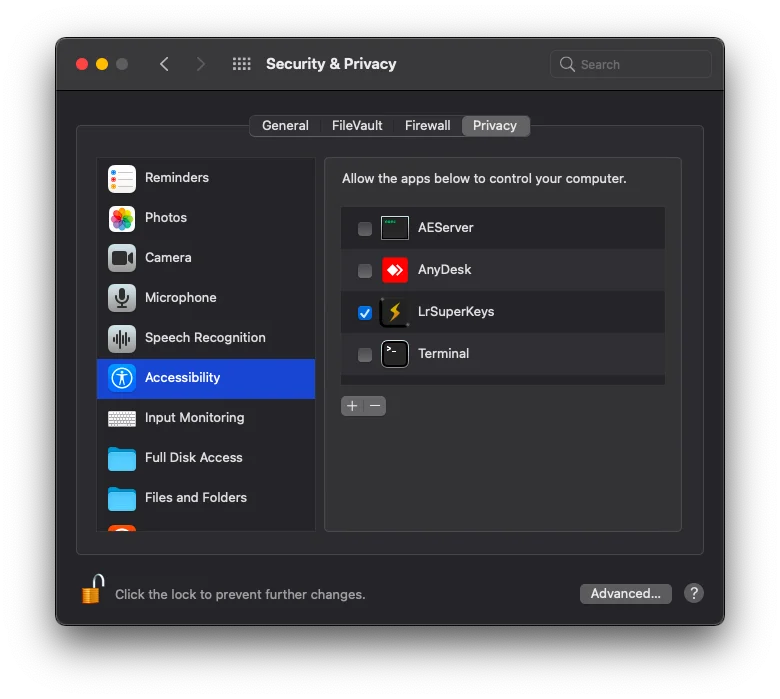 How to make the LrSuperKeys work on macOS if they are not working
If there is already a checkmark next to LrSuperKeys and it's still not working, try following these steps. It will most likely fix your issue with the LRSK not working on macOS.
Important: First shutdown Lightroom Classic and LrSuperKeys.
Now go to Settings / Security & Privacy, then click on the Privacy tab.
Highlight LrSuperKeys in the list then click on the "-" button to remove it from the privacy settings as shown below.
Open up Lightroom Classic and this will start up the LRSK plugin
LRSK will request permissions once again. Follow the steps described above on how to grant permission to LRSK