Action Keys
Getting Started
Action Keys Introduction
Action Keys are powerful and flexible key mappings that perform Lightroom masking presets (including AI tools), develop presets, tools, and shortcuts.
Getting Started with Action Keys
For additional key mapping possibilities, we implemented the Action Speed Key.
Think of the Action Speed Key as another modifier key similar to CTRL, SHIFT, etc… You can use the Action Speed Key in combination with another key. When you create actions, you will have the option to use or not use the Action Speed Key.
The Action Speed Key is the ~ (tilde) key by default, and it's defined and can be customized on the Speed Keys & Hotkeys screen.
To view, edit or create new actions, click on the Action Keys menu item and you will be presented with the screen below.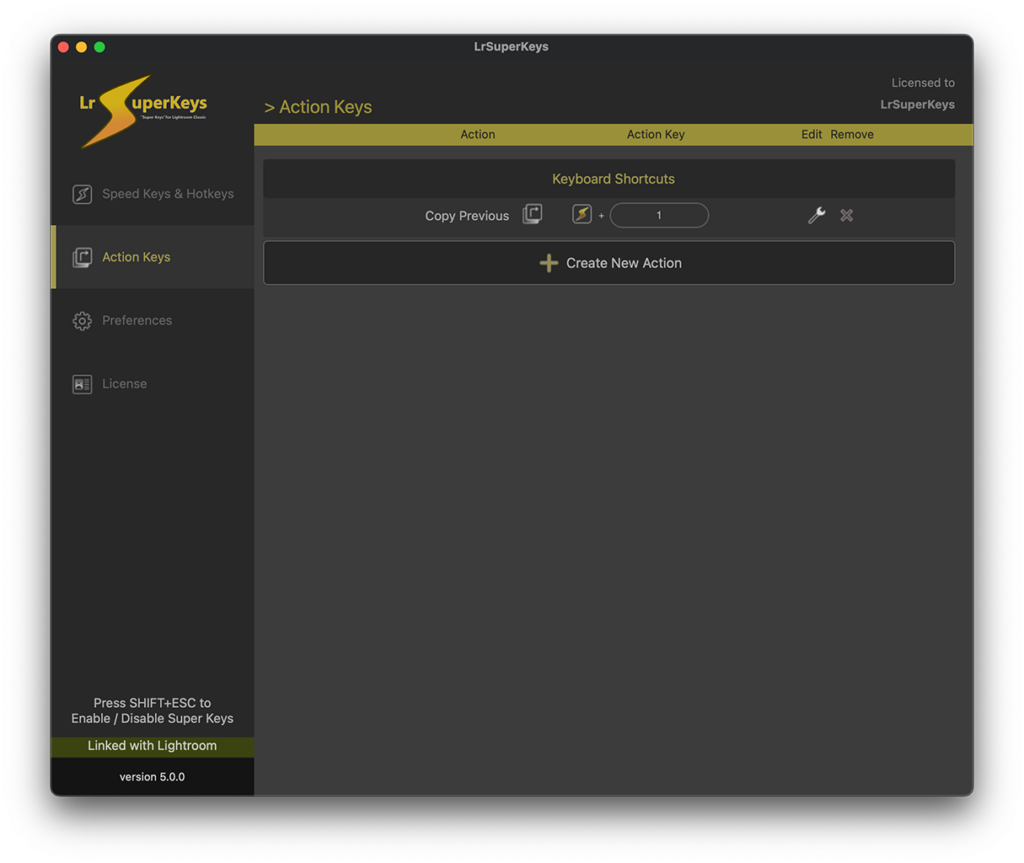 We created one action for you as an example. This simple action performs the "Copy Previous" command when you press the Action Speed Key (~) and 1 at the same time.
Creating a New Action
Follow these steps to create a new action…
Click on the Create New Action button
Decide if you want to use the Action Speed Key or not by using the "Action Speed Key not required" check box
Click to highlight the entry box and tap the key you want to perform your action
Click the "Pick an action…" button
Now choose your action from the pop-up list of available actions & presets
Click the "Add" button to complete
Let's create one!
Let's create an action that will darken our background.
This action will use the new AI Select Background masking tool and apply the Burn local adjustment preset.
It will be mapped to the number two key and uses the Action Speed Key.
Click play to watch…
Once we have created this action, we can simply press ~ + 2 to darken the background from the subject. Lightroom will create a new masking layer using the AI Select Background tool and then apply the Burn preset to the mask automagically.
There are four types of actions that can be created.

For detailed information and the available options, check out the What is an Action Key section of the FAQs.
Important Notice: If your local adjustment preset contains a color overlay, it will be ignored due to the fact that Adobe does not provide developers with a method to change or apply color overlays from a plug-in. In addition, if a color overlay is currently applied, applying another preset without a color overlay will cause an issue where the color overlay remains set as before and is not cleared.